page contents
Mrs. Royer
Gifted Enrichment
St. Martin Parish
Catahoula (1st-5th), Parks (1st-6th), and St. Martinville (1st-6th)
Breaux Bridge (4th-5th) St. Bernard (1st-5th)
Send Out Program One Day a Week at Parks Primary
8:00-2:15
Email: patrice_royer@saintmartinschools.org
Phone Number: 337-845-4663 EXT 2943
2019-2020 School Year
Please check Remind app for Gifted Ed. Updates throughout the school year
I will visit students at their school to give information packets to be sent home.
Class School Supply List: (Please see Remind message with same info.)
* One inch binder (with top opening for insert sheet)
* 50 sheet protectors (place inside binder)
* Looseleaf paper (wide ruled)
* One subject (wide ruled) notebook
* One pocket folder (no prongs)
* Ear buds (place in ziploc with child's name)
* GIRLS: one box Kleenex
BOYS: one paper towel roll
The following will be learned and explored in each class:
New unit of academic enrichment to be explored every school year

Innovative teaching strategies; Critical thinking skills

Social and Emotional awareness

Technologically based teacher lessons and student activities

Creativity and Art; Science Engineering challenges & Math problem solving; Visual Thinking Exercises

Student self-assessment, student choices, and student interests will be acknowledged

Keyboarding; Creative Leadership; Cooperative learning in groups

Smart Centers to practice concepts, demonstrate creativity/originality, & self discovery
* Daily Lessons*: throughout the year:
SSR; Perplexors (logic puzzles); Journals
Techniques of Problem Solving: Math; Visual Thinking; Keyboarding;
Creative Writing; Research on the Internet;
Google Chromebooks: Google Classroom: Google Docs/Slideshows
Curiosities and Puzzlements (current and cool things in the world for viewing and discussion)
Engineering Building Challenges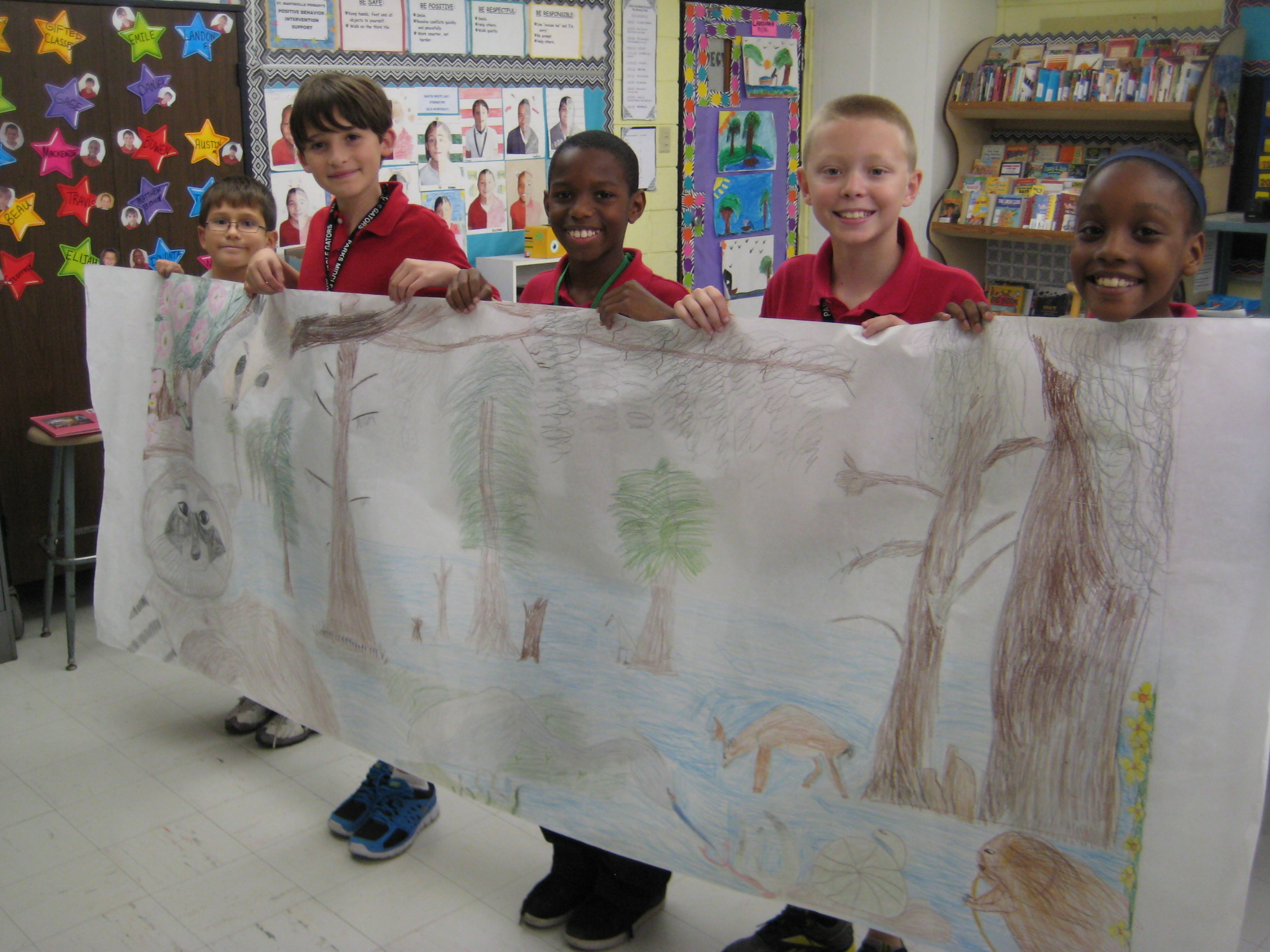 Louisiana Bayou Wildlife Mural
TOPS-- Techniques of Problem Solving. Math problems that increase in difficulty. Skills include: Use resources, choose the operation, guess and test, organize data, use logic. Teacher will keep a record of each child's completion of activity on a rubric with numbers 1-200 by initialing in the box with the card number, once teacher checks for correction. Level decks A, B, C, D, AA, BB, and CC. (3rd through 9th grade)
Visual Thinking allows students to visualize characters, settings, and physical objects. Concepts: congruence, mapping, order, geometric shapes, illusion, magnitude, part-whole relations, patterns/models, reflection/symmetry, rotation/position, & similarity.


Quick Pick: Critical Thinking- Multi-sensory activities geared to Bloom's Taxonomy. Each section includes 20 activity cards that address a different level of critical thinking. Lowest to highest level. Discuss it, do it, draw it, make it, and write it.
Bloom's taxonomy-- Knowledge, Comprehension, Application, Analysis, Synthesis, Evaluation.
Teacher will keep a record of each student's completed activities by writing initials on their record-- to be kept in binder.
1- Attempted 2-With Difficulty 3-Mastered

Quick Pick: Multiple Intelligences- Activities are based on Gardner's Multiple Intelligences to engage all students with different multiple intelligences and strengthen all of the intelligence skills while addressing national curriculum standards. INTELLIGENCES-- Music/Rhythmic, Bodily/Kinesthetic, Existential, Intra personal, Interpersonal, Naturalist, Logical/Mathematical, Verbal/Linguistic, Visual/Spatial
*Teacher will keep a record of each student's completed activities by writing initials on their record-- to be kept in binder.
1- Attempted 2-Completed 3-Showed Strength

** Assessment Checklists kept in each student's binder. **



You must be the change you wish to see in the world. – Mahatma Gandhi



Mrs. Royer's Conference Times

Parks Primary
8:00-10:00 A.M. on FRIDAYs
Please call a day in advance to schedule an appointment.
I cannot meet with you unless we have scheduled an appointment. THANKS !!


St. Martin Parish Grading Scale:
New State Grading Scale
| | |
| --- | --- |
| Grade | Percentage |
| A | 100-93 |
| B | 92-85 |
| C | 84-75 |
| D | 74-67 |
| F | 66-0 |

PHONE CALL POLICY---
Jcall is the St.Martin Parish School Board's phone call notifier system.
You may get a phone call or email for several different reasons: when your child is absent,
discipline issues, or Emergencies/Natural Disasters.
If you get a call and have questions, please email or call me.