page contents
Welcome to the Dr. Joyanne D. Miller School
Library Media Center

Click this link to check out Mrs. Alleva's Virtual Library!
I have prepared various activities and resources for you to explore in Google Classroom.
I hope you will participate and keep learning new things while you are home. Hopefully, I will see you soon in the library!
Happy reading :)
4th Grade Google Classroom Code: kfm6mzv
5th Grade Google Classroom Code: h2cdde4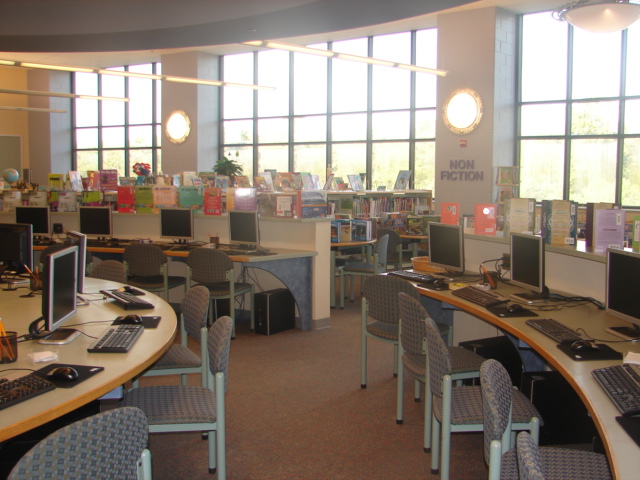 Something for Everyone! @ your library

My name is Mrs. Kathy Alleva and I am your child's Media Specialist. I am looking forward to working with the children in the library. Students at the Dr. Joyanne D. Miller School will come to the media center every other week to learn how to use a library and to borrow library materials. Our media center provides materials and services that meet academic, technical, personal and social needs of the school community. Because libraries are forums for information and ideas, books are provided for the interest and enlightenment of all students and teachers.


A media specialist wears multiple hats within the media center or school library. Ordering books and other resources, conducting story times, and teaching students how to find books in the library are just a few of my responsibilities. I must also teach students how to use the Internet, sifting through websites to locate reliable sources for reports, projects, and research papers. Librarians teach students how to use electronic databases to access articles from journals and newspapers. I guide students in finding and using a wide variety of materials. It is my goal to instill in students the ability to be self learners by promoting the spirit of inquiry and teaching effective fact-finding skills. In the library we read to introduce new ideas, develop reading skills and encourage a love for reading.

We have an exemplary media center, supplied with books, listening center tapes, videos and DVD's on many different subjects, magazines, computers with Internet access, databases, and playaways (audio books) as well! We are currently adding eBooks to our collection and students will be able to access the books from any school computer. I ask that you please encourage your child to use our library as well as their public library! Please discuss the proper handling of books and help your child find a safe place to keep their books at home.
Thank you for your help in encouraging your child to use our library media center. Since reading is vital to success in our world, and since we know that the best readers are those who have parents that are involved in their education, we encourage parents to read and review the books your student selects. Feel free to come in and visit and browse the collection in our media center. You may find just the right book to share with your child! There's a lot happening at our school library media center!
"Students in schools with good school libraries learn more, get better grades, and score higher on standardized test scores than their peers in schools without libraries."
~U.S. Commission on Libraries and Information Science