page contents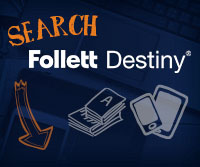 What can you do on the School Library Website?
Search the Catalog for books you would like to check out during your Library visit.

Place books in your Favorites (Destiny Discover) or "Books I want to read" list (Destiny Quest).

Find safe Websites using Destiny's WebPath Express, to help with homework or to explore.

Access your teacher's resource lists to choose books for a particular assignment or unit of study.

Utilize visual searches or topic searches to access books and resources on your favorite topics.

Download an eBook on your home computer or device to read on the go!

Write a book review.

See our recently added books.

Read a "Lightbox" book, which is an interactive book that has videos and websites attached for you to delve deeply into a topic.

Visit websites from the Library Homepage.
And so much more!
Have fun! Explore! Discover! Imagine! Learn!