page contents
2022-2023
Welcome Parents! Thank you for visiting our website.
Some important things to note:
* Please check folders daily.
* Please initial conduct daily.
* Test papers will come home on Tuesdays OR Wednesdays. (Sometimes due to make-ups or unforseen circumstances, they may come home on Wednesdays.)
* I have sent home ways that you can help your child in the beginning of the year folder. However, I am here should you ever need. You can email me, text or leave an message and I will get back with you as soon as possible.
* Please sign up with the REMIND app to keep informed about important information. (The information will also go home on the first day.)
***If you ever have questions, concerns, or even positive comments, please do not hesitate to contact me.
Grading scale
100-93=A
92-85=B
84-75=C
74-67=D
66-0=F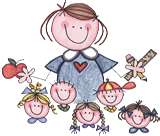 Important dates are listed on Cecilia Primary's website.
Proverb - "To teach, one must know the nature of those whom one is teaching."