page contents
Updates & Friendly Reminders: 2019
East Beauregard Family & Consumer Science Dept. & FCCLA Organization
RADA Cutlery Link (Please let the student that you are ordering from know that you completed an online order so that they may tell me & I will give them credit at the school level. At this time RADA does not have the ability to order from individual students just the school/organization.) Thanks for your support!
https://radafundraising.com/?rfsn=819985.1a5029
Rada Cutlery orders are in pick up after lunch on Friday, 11/15

Check all orders ASAP after school to make sure they are correct, if anything is wrong let me know ASAP. We have until Tuesday 11/19 to report any problems.
FCCLA Christmas party will be Thursday 12/19
Sign up to bring food for the Christmas party & remember that you have a Pal.
Write Pal letters
Plan to bring a $5 Pal gift to exchange the day of the party. (Example: Favorite Drink, Chips, Candy, etc.)

FCCLA to Natchitoches on Sunday, Dec. 15th permission slips available.
Permission slips due back on Dec. 5th ONLY FCCLA members who sold $75 of Rada are eligible to attend the trip.
---
______________________________________________________________________________________________________________________________________________________
Start-To-Sew Sewing Kit (in plastic case at Wal-Mart) Optional if you have sewing items already put them in a ziplock bag or container to use at school
½ yard fabric (at least 50% cotton) for samples - must be a solid color
Fabric for pillows 1 yards (you must make 1 standard size pillow or 2 sm. throw pillows)
*Fabric must be at least 50% cotton
* Note it is always better to have extra in case of mistake
1- Spool of Dual Duty All-Purpose Thread – should match pillow fabric, you can use it for the samples also, do not buy extra thread for the samples!!
1 Bag of Poly-Fil stuffing (if you select to make larger pillows you will need)
---
FCCLA is collecting backpacks & coats for June Jenkins, also baby blankets for the NICU @ Women's & Children's Hospital.
LA FCCLA Website: www.lafcclainc.org
National FCCLA Website: www.fcclainc.org
Students were given remind.com information paperwork to be used to allow text message reminders to be sent to parent/student phones regarding school events & classwork. Please ask your child for this paperwork, it is to be completed and returned for a grade.
FCCLA will be collecting "Coats for the Cause" donations will be used for local students and June Jenkins Women's Shelter, please send donations to Mrs. Kingan.
FACS Fees $5 (this helps to pay for cooking ingredients and some sewing supplies)- Please make sure these fees are paid.
Wavier forms must be turned in ASAP!

Favorite Recipes are now at the bottom under reminders

FCCLA INFO...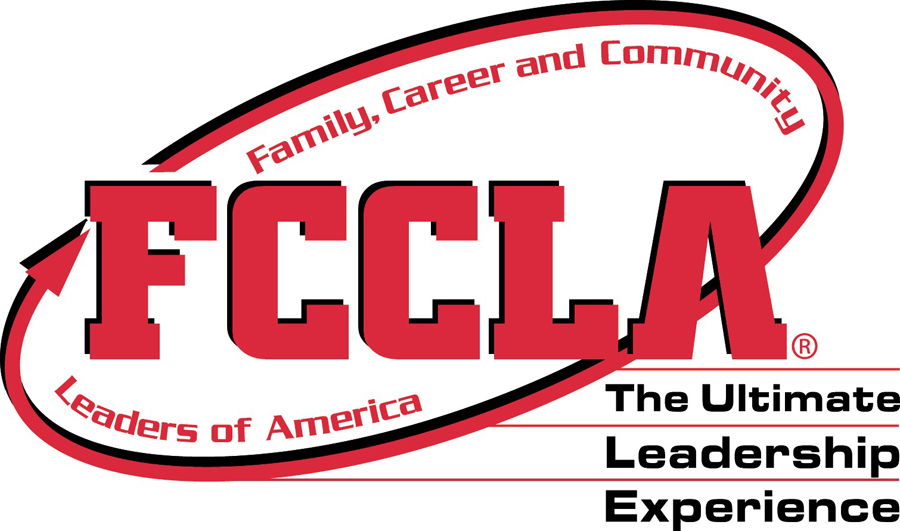 FCCLA T-shirts are $12 they can be purchased in the classroom most sizes are available for pickup now!
FCCLA Parish will be in Spring 2019, meeting details will be announced soon. Students must sell Rada Cutlery to be eligilbe to attend meeting & fun session.
EB decals are now on sale- Contact Mrs. Deason in the Library or Mrs. Nolen-Kingan to purchase the Decals-$5, Dogtags- $5, Keychains-$3



FCCLA Officers 2018-19

President-Bailey Kingan

1st Vice President- Cheyenne Ferdig
VP of STAR Events- Kaylee Booth

VP of Programs & Records/Public Records- (secretary/reporter)- Crystal Miller

VP of Finance- (treasurer)-Brandi Richards
VP of Individual Records - Karley Bailey

VP of Parliamentarian Law- Lane Tarver
Student Representatives:
Cody Shanley
Katie Krawczyk
Alexis Rougeau
Alexis Smith
Raegann Smith
Olivia DeMaskey
Aleecia Razo
Darian Rutherford
Hillarie Gallien
Peanut Butter Balls
EBHS FACS Dept.- Mrs. Nolen-Kingan
Ingredients: **Note: If you do not use coconut, use less butter
½ cups of peanut butter
2 sticks of margarine– melted
1 16 oz. box powered sugar (3 ½ cups)
1 ½ cups graham cracker crumbs
1 ½ cups flaked coconut
Glaze:
1 12 oz. package chocolate chips
½ bar of paraffin wax
Directions:
In a large bowl mix together first five ingredients. Mix very well. Shape into ½ inch balls. Refrigerate ½ hour (this helps the melted chocolate adhere to the ball surface).
In a double boiler (two pots) melt paraffin and chocolate chips. Using a spoon, dip chilled balls into chocolate and set on wax paper to harden.

Boiled Oatmeal Cookies
Daphne R. Nolen - EBHS

2 1/2 c. oatmeal 1 stick margarine
½ c. creamy or crunchy peanut butter ½ c. milk
½ c. nuts ( if desired) 1 tsp. Vanilla
2 c. sugar 4 T. Cocoa
Mix milk, sugar, margarine, and cocoa in saucepan. Bring to a steady boil. When rolling boil starts, cook for 2 mins. (start 2 min. timer once mixture has come to a rolling boil), stirring continuously. Remove from heat; add 2 ½ cups oatmeal, vanilla, nuts, and peanut butter, stirring continuously. Spoon in small amounts onto waxed paper, let cookies cool until hard.
*If you like coconut you may add ½ cup into the oatmeal.

Popcorn Balls
From the kitchen of Charey Ford
5 quarts of popcorn (unsalted)
3/4 c. Karo syrup
1/4 c. margarine
2 T. of water
1 lb. powdered sugar
1 c. mini marshmallows
1. Prepare popcorn by using popcorn popper or on stove.
2. Pour popcorn evenly in a large pan.
3. Mix karo syrup, margarine, water, powdered sugar, and marshmallows in a large sauce pan over low heat.
4. Mixture should stay on low heat until begins to boil, immediately remove from heat.
5. Pour mixture over popcorn, toss popcorn gently to coat. Moisten hands with cold water and form balls.
Easy King Cake
1 Can Cinnamon Rolls
1 Pouch of Icing (usually included with cinnamon rolls)
3 T. Sugar
Preheat Oven 375 degrees
Open cinnamon rolls and unroll each one.
Place individual strands in 3's for braiding.
Braid each set of 3.
Place sets together in a circular shape on a lightly greased cookie sheet.
Bake18-22 mins. Be sure to check for doneness between the braids.
Remove king cake from cookie sheet, place on a large plate or platter.
Put icing on king cake and sprinkle colored sugar on top.
Coloring -Sugar-
Place 1 T. of sugar in ziplock bag, add 2 drops of green food coloring, move around with fingers.
Place 1 T. of sugar in ziplock bag, add 2 drops of yellow food coloring, move around with fingers.
Place 1 T. of sugar in ziplock bag, add 2 drops of purple food coloring, move around with fingers.
Homemade Ice Cream
EBHS FACS Dept.- Mrs. Nolen-Kingan
Submitted by Patrick Gill
4 Eggs
1 Cup Sugar
2 T Vanilla
2 Cans Eagle Brand Cream
½ Gallon Milk
Directions:
Mix sugar and eggs together in mixing bowl, add 2 cans cream and vanilla into mixture, stir well. Then add ½ gallon of milk to mixture and stir. Pour into ice cream freezer. Be sure to use rock salt with ice in the churn. Churn mixture until firm.
Makes 2 quarts
Peanut Butter Cornflake Crunch Bars
EBHS FACS Dept. - Mrs. Nolen-Kingan
A very simple to make bar cookie that kids love. Sort of
like a peanut butter rice krispie treat, except made with
cornflakes. Makes 2 dozen (12 servings).
Printed from Allrecipes, Submitted by Kathleen
1 cup light corn syrup
1 cup white sugar



1 cup smooth peanut butter
7 cups Rice Krispy cereal or cornflakes cereal
Directions
1 Cook syrup and sugar until mixture comes to a boil.
Stir constantly; do not overcook.
2 Remove from heat, add peanut butter, and stir until
smooth. Pour mixture over cornflakes in a large bowl. Mix
until cereal is thoroughly coated.
3 Spread in a buttered 9 x 13 inch pan and press down
lightly with buttered hands. When cool, cut into squares.


Blueberry Crunch
EBHS FACS Dept.- Mrs. Nolen-Kingan
Submitted by:Lanell Chaney
mix- set a side in 9* 13 pan
4 cups blueberries
20 oz. Crushed Pineapple
¾ cup sugar
1 yellow cake mix
1 ½ stick butter
Chopped pecans
Pour dry cake mix over blueberries slice margarine over cake then pecans
Bake at 350 degrees for 45-55 Mins.
Daphne's Favorite Holiday Recipes
Sausage-Cheese Balls
| | |
| --- | --- |
| 3 | cups Original Bisquick mix |
| 1 | pound bulk pork sausage |
| 4 | cups shredded Cheddar cheese |
| 1/2 | cup grated Parmesan cheese |
| 1/2 | cup milk |
| 1/2 | teaspoon parsley flakes (optional) |
| | |
| --- | --- |
| 1. | Heat oven to 350ºF. Lightly grease bottom and sides of jelly roll pan. |
| 2. | Stir together all ingredients, using hands or spoon. Shape mixture into 1-inch balls. Place in pan. |
| 3. | Bake 20 to 25 minutes or until brown. Immediately remove from pan. Serve warm with sauce for dipping. |
BLT Dip
1c. Mayo
1c. Sour Cream
1c. Grated Cheese
2 Tomatoes Diced
1 pkg. Bacon bits
1 pkg. Ranch dressing mix
** Mix all ingredients together, chili, serve with crackers or chips
Broccoli Cornbread
2 boxes jiffy cornbread
4 eggs
2 sticks margarine
--Melt 1 in pan
-- Melt 1 in mix
1 cup chopped broccoli
1 cup cottage cheese
1 cup chopped onion
Mix all together and bake @ 400 degrees for 30 minutes.
Can bake a little longer to make it darker..
I cut the oven off and let it sit in oven for about 5 minutes to soak up
some more of the moisture.


Crockpot Gumbo
1 can. Lg. cream of chicken
2 pks. Brown gravy mix
2 bags of picsweet seasonings mix (frozen) (onions, bellpepper, celery mixture)
1 lg. package chicken breast (4 pack) boil and cut into small pieces
1 box sausage (I use only ½ the box)
1 lg. box chicken broth
Add water & Cajun seasoning to desired taste & thickness
*
Add kitchen bouquet for color if you would like!

Leave in crockpot for 6-8 hours, if you do not have this much time brown sausage and sauté picsweet mix together before placing in crockpot. This will save time!


Easy Sparkling Punch
Recipe was in Home Ec. Dept. dated 1974

1- 64 oz. White Grape Juice
1- 2 liter Sprite or Twist Up
1/3 of a 2 liter Ginger Ale

Chill all 3 then open and add together right before serving, the taste is much better when mixed as needed!
Chili Spaghetti
2 -15oz. cans wolf brand chili (or the chili of your choice)
2 -10.5 oz. cans fiesta nacho cheese
1 -box angel hair pasta
1 -package taco seasoning
1lb -ground meat
Shredded Cheese for topping (Optional)
Brown ground meat, add taco seasoning and water as directed on package.
Mix cans of chili, nacho cheese, and hamburger meat together
Add cooked pasta to mixture
Place mixture in casserole dish
Top with shredded Cheese
Bake at 350 until Cheese topping is melted