page contents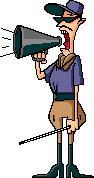 MLK Jr Middle School and Elementary school band programs are here to serve the needs of its students. In order to do this, it is important that both director, students, and parents maintain high standards consistent with any worthwhile organization. It is the my personal goal to mentally, physically, and musically prepare the students for participation in high school band and beyond. The positive experiences the students gain from a successful performance is shared by all because it is reliant upon everyone's effort and participation. It is my hope that both the self reliance and the support for others that the students learn will serve them well as they continue their education and their lives.
ATTENTION!!
GOOGLE Classroom MLK Jr Band
https://classroom.google.com/u/0/c/NzkzMjQ2ODIyMjBa?cjc=wsk3g5w
code: wsk3g5w
Thanks,
Mr L Washington
We are Wildcats on the P.R.O.W. L.!
Providing Rigorous and relevant Opportunities in instruction that Will enhance Learning