page contents
CONGRATULATIONS TO THE FOLLOWING ART SERVICE STUDENTS
WHO EARNED A 100 AVERAGE FOR THE YEAR:
GABE ONORATO
SONIYA SAINE
ANTONIA MONTALVO
ZOLA MONTALVO
NAJAHE MOORE

Third Marking Period Art Stars:
99 point club: Adrianna Chila, Kierstyn Marshall, Aryieonna Moore, Kieleigh Dunn, Alana Ferrell
100 point club: Antonia Montalvo, Zola Montalvo NaJahe Moore, Gabe Onorato, Jacob Perez, Cody DiSilvio, Berenice Hoil, Doug King, Ivan Murray, Jaida Quaranto, Olivia Sharp, Emily Wolf, Soniya Saine, Alanya Worthy
GREAT JOB GUYS!!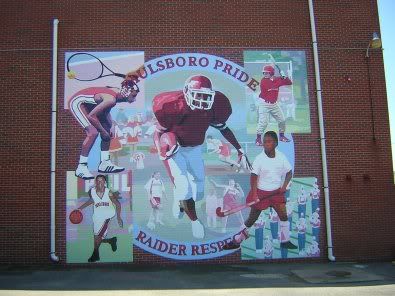 Raised in Gibbstown, I graduated PHS in 1996. After 2 years at Camden County College, I went to Rowan University and majored in Illustration/Graphic Design. It wasn't long before I changed my mind and enrolled in the art education program. I graduated in the spring of 2001, and accepted a job in the Greenwich Township School District. I taught art at Broad Street Elementary and Nehaunsey Middle Schools for 4 years and in 2004 received the honor of "Teacher of the Year." In the fall of 2005, I began teaching art at Paulsboro High School. I now teach the Art Service and Art 1 courses to students in grades 9-12. I also advise the Student Council, Key Club, and the Freshmen class.
In 2013 my fellow colleagues nominated and then chose me for the honor of "Professional of the Year."
GO BIG RED!!!
Contact me at comalley@paulsboro.k12.nj.us
Have a great day!