page contents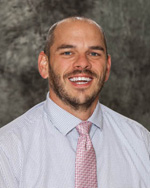 Introduction:
My name is Mr. Nicholas Stoulig, and I am excited about the 2019-2020 school year. I am the 5th - 8th grade Social Studies Teacher. This is my 19th year in education and my 2nd year at the SLU Lab School.
Educational Background:
I received my Bachelors Degree from Southeastern Louisiana Univeristy in Social Studies Education in May of 2000. I taught high school social studies for 5 years at West Jefferson High School on the westbank of New Orleans. I returned to Southeastern in 2006, after Hurricane Katrina, to earn a Masters degree in School Counseling. I graduated with my M.Ed. in 2008 and began working as a School Counselor at St. Thomas Aquinas High School here in Hammond.

Personal:
Thanks to Southeastern, I was able to meet my lovely wife (who currently teaches Biology for SLU). Our two children have attended the Lab School. Ethan graduated in 2017 and currently attends St. Thomas. My daughter Sophia is currently in 3rd grade at the Lab School.

Traveling is a HUGE passion of mine! It began for me in college, when I earned a trip to Arizona for a school conference. Since then, I, along with my wife and children have visited nearly every state in the U.S. and we have collectively visited over 20 countries! There is nothing like the education that comes from experiencing cultures and lifestyles that are different from your own.
In addition to traveling, another passion of ours is summer camp. Ever since 1999, my wife and I have returned to our "summer home" in Upstate NY. Camp Echo Lake has been a blessing for us. Long days of working with children from age 8 - 16 gives us tremendous rewards. It has also allowed us to give our children an experience that they would not otherwise be able to have.
I am extremely excited to be at the Lab School and I look forward to a great school year with all of my students!!!
You can reach me by emailing me at nicholas.stoulig@selu.edu, nicholas.stoulig@tangischools.org or by calling the school office at (985) 549-2185.