page contents
Welcome to Ms. Paluzzi's Homepage!
My schedule and contact information can be found by clicking here.
Haven't checked out Artsonia yet?

Make sure you have returned your signed permission slip to get your art on Artsonia!
You can give permission digitally this year here: Artsonia Parent Permission Form

Looking for art opportunities outside of class?

Check out this list of art camps and classes! Know about something that isn't on the list? E-mail me so I can add it!

Featured Artwork of the Month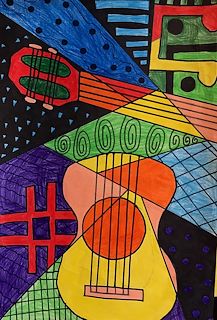 Cubist Inspired Guitar by Juan Carlos, Gr. 6