page contents
Mrs. Yoerger's Class Website
I am so excited to start the 2018-2019 school year. This website will help keep you informed of the events in our class, around our school, and in our school district.
If you ever have any questions or concerns, please feel free to contact me.
You can call the school- 543-3663
Or you can email me- ErinRY@leeschools.net
---

School-Wide Expectations
* Be Prepared
* Be Responsible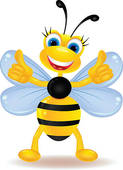 * Be Respectful
* Be Safe

Bayshore Elementary is a PBS school. PBS stands for Positive Behavior Support. The goal of PBS is to stop undesirable student behavior by teaching new behaviors, changing the environment, and rewarding appropriate behaviors. It is a preventative and positive approach to assist students in working towards appropriate self management.
(Students earn Bee Bucks for following our school-wide expectations. Students can spend Bee Bucks on prizes or go to PBS Parties.)