page contents
Math 24 Fourth-Seventh Grade
Trevor-Wilmot students in Grades 4-7 participate in a variety of Math 24 challenges.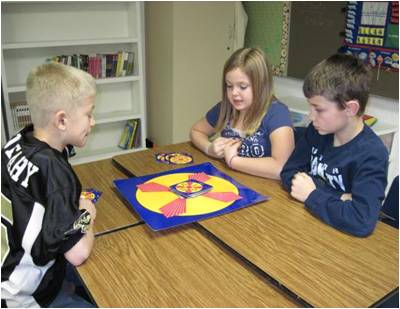 Math 24 is a competitive card game that challenges students in problem solving, mental math, and patterning. Fourth graders practice Math 24 single digits and fifth graders practice Math 24 double digits. Math 24 is a mathematical game in which the object is to find a way to add, subtract, multiply, or divide the four numbers on the card so that the end result is 24. For example, a card with the numbers 4,7,8,8, a possible solution is the following: 8/8=1, 7-1=6, 6×4=24. There are nine official variations of the 24 Game.
Cards are divided into three levels of difficulty. The levels are indicated by the dots on the cards. There are one-dot cards, two-dot cards, and three-dot cards.

The Southern Lakes Advanced Learners Network sponsors a Math 24 regional competition for area school districts. This year's tournaments will take place at The Kenosha County Building located on Highways 50 and 45 on Thursday, February 13th and Thursday, February 21st from 8:30- 12:30. One team of 3 students from the 4th Grade and one team of 3 students from the 5th Grade will represent our school at the tournament.
Below are the decks being used by grade level:
4th Grade: Single Digit (33976)
5th Grade: Double Digit (33976)
6th Grade: Exponents (37976) and Integers (33576)
7th Grade: Fractions/Decimals (34676)
Visit the www.Math24.com website to purchase Math 24 decks for home use.


Good Luck To All Participants!!