page contents
Ruby Bridges Projects
Please choose one of the following projects.
Choice Menu
Through My Eyes by Ruby Bridges
Colorful Collage

Create a colorful collage representing Ruby Bridge's life. On the back explain why you chose the pictures on your poster.

Extra, Extra: Segregation Scandal

After reading the news excerpts from the novel, create your own news story about this time era.

Mind Boggling Mobile

Make a mobile representing the time of segregation and Ruby's life. Each piece should be related to the novel and have a description on the back.

Photography Investigation

Pick two pictures from the story, one from Ruby's personal collection and one from the media's collection. Write a paragraph for each photograph and explain why you chose it and give background information for the picture.

Playful Puppet Show

Create puppets to represent characters from the novel. Put on a performance for the class showing a scene from the book that had an impact on you.

Powerful Poetry

Write a poem about Ruby's life. The poem should be about one event from her life, not her entire life. Poem must be at least 4 stanzas and 4 lines per stanza.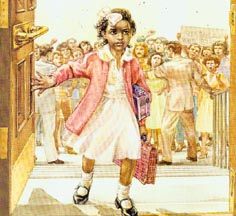 Colorful Collage
Directions:
You will create a collage to represent Ruby's life. Cut out multiple pictures from magazines, news articles, and the internet to represent different parts of Ruby's life. You must have at least ten pictures for this project. Glue the pictures to a piece of poster paper. Make sure you include the title of the book and the author.
Extra, Extra: Segregation Scandal
Reread the news story excerpts on pages 14 and 16 of Through My Eyes. Then write your own news story about an incident in New Orleans in the fall of 1960. Be sure to answer the 5W's in your article: who, what, where, when, and why.
In article, be sure include:
Bi-line (your name)
Name of Article (be creative)
Date of Newspaper (there is a right and wrong answer)
All import details about incident
Answer the 5W's
· DO NOT include opinions
Mind Boggling Mobile
Directions:
You are to cut assorted shapes and pictures to represent important aspects of the story. You must include at least six shapes/pictures.
Example: One shape may be in the shape of Louisiana to represent where Ruby is from.
On the back of each shape or picture give important information about the novel. Such as: Setting, main character, important events, conflict, etc.
Include the title of the novel and the author somewhere on the mobile.
4. Attach each shape/picture to a piece of string and connect to a hanger to create a mobile. Be creative in turning the hanger into something important from the story.
Photography Investigation
In Through My Eyes, there were many shocking and emotional photographs. In this project, you will need to look closer at these photographs and draw conclusions. Review each photograph in the book and decide:
Which photos look as if they might be from Ruby's personal collection of photographs?
Which photos might have been taken by news photographers covering the integration of the William Frantz School?
After you have decided which photographs belonged to Ruby and which photographs belonged to news reporters,
Choose two pictures to investigate closer

One from Ruby's collection
One from the news collection

Write a paragraph for eachphoto answer the following questions:

How did you determine who the photo belonged to?

What clues were in the picture?
What point of view was the picture from?
What were your initial reactions when you saw this photograph?
o Do you agree with what is going on in the photo? Why or why not?
Playful Puppet Show
Directions: Chose a scene from the novel that made an impact on you. Using socks, craft sticks, or any materials of your choice you will make puppets to represent main characters from the book. You should also create some kind of stage or background for your puppet show. You will then present a puppet show for the class.
Powerful Poetry
While reading Through My Eyes, we learned about many hardships and successes in Ruby Bridges' life. Think about all the major events that happened over the course of Ruby's story. Your task is to choose an incident or event from Ruby's life and write either a rhyming or a free verse poem about it.
Your poem must be at least:
4 stanzas long
4 lines in each stanza
Be creative with your poem! Think about how Ruby might have felt during the event that you are describing. To challenge yourself even more, try to make your poem rhyme!