page contents
Dear Parents and Families:
My office number is 908-876-3865 ext. 4003. Use my email address anytime you would like to email me with concerns or questions. My email address is nbraithwaite@wtschools.org
I check this throughout the day, so this is an efficient way to contact me.
I often use email to communicate with parents and report issues or minor injuries during the school day.
SEE IMPORTANT PANDEMIC INFORMATION BELOW ON THIS HOMEPAGE, PLEASE.
Please use the cdc.gov/coronavirus for information and the njdoh.gov for accurate covid19 information.
The New Jersey Department of Health (njdoh.gov) has a Family Fact Sheet that is factual and informative. I will post it under the CDC alerts on my webpage. Everyone for your protection, Please remember the 4 W's: Wear a Mask / Wash with Soap / Watch your Distance - 6 Ft. / Windows Opened for Ventilation as much as possible.
Please visit the LVCAP (Long Valley Community Assistance Program) on line for any needed resournces, help, assistance, food pantry, Holiday needs, or any other support your family is looking for. I can help with this connection also, if you prefer my help. You can email me at..... nbraithwaite@wtschools.org
You can also email the LVCAP at longvalleycap@gmail.com

I am Mrs. Nancy Braithwaite, a registered nurse, and a NJ Certified School Nurse (NJ~CSN). As the Old Farmers Rd. School Nurse, I am here to provide health services to your child, promote wellness, and prevent illness and infection. Through screenings, parent communication, teacher articulation, education, assessments, health services, and first aid / nursing care, the school health program strives to provide optimal wellness for school-aged children, and the entire school community.

As the school nurse, I utilize various educational strategies with the students and staff to teach healthy behaviors that promote wellness and prevent infection in our school building. Some of the healthy behaviors include: hand washing with soap, avoiding hand contact on the face (not putting fingers in the mouth, nose, eyes), not sharing personal items, and other modalities to keep the classroom a healthy environment. Our school staff focuses on the cleanliness of frequently touched surfaces, as this is key in maintaining a healthy school building. Along with many activities, I present Lunch and Learn sessions to educate students about positive healthy habits and behaviors.

Any measure that the parent institutes at home to promote these infection-control behaviors, will assist the nurse, and help keep your child at their optimal level of wellness. Please practice proper hand washing at home (some great videos on your computer), using tissues, & covering up and turning away from others to sneeze or cough. Other health promoting tips: provide effective sun protection and do tick checks when your child is outdoors. Proper car seats, helmets/pads/mouth guards, fire protection, poison prevention, firearm safety, adequate nightly sleep, daily exercise, healthy food choices with plenty of protein, fiber, fruits, vegetables, and water, stranger safety, holiday safety among other topics are all imperative to keep children safe and well.
Your efforts will all support my philosophy that ...Healthy children learn better!!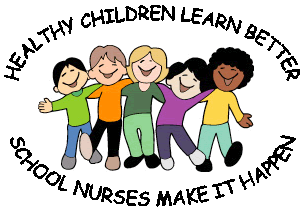 For the protection of your child and others, please do not send your child to school with symptoms of any of the following:
*upset stomach
*vomitting
*diarrhea
*persistent runny nose with a cold
*sore throat
*fever, equal to or above 100ºF
*persistent cough
*ear ache
*rash
*swollen glands

Children should be symptom-free and fever-free for 24 hours (without the use of antipyretics such as Tylenol or Motrin like products) before returning to school. This practice will prevent the spread of infection at school, and help keep others healthy.
DURING THE PANDEMIC, THIS CRITERIA IS DIFFERENT. NO STUDENT OR STAFF OR FAMILY MEMBER SHOULD BE ENTERING THE SCHOOL BUILDING WITH ANY OF THE ABOVE SYMPTOMS. YOU WILL NEED TO DISCUSS REQUIREMENTS FOR RETURNING TO SCHOOL AFTER AN ILLNESS AND YOU WILL NEED TO SEEK DOCTOR APPROVAL AND PERMISSION TO RETURN TO SCHOOL WITH THAT BEING PRESENTED IN A PHYSICIAN/NP/PA OFFICIAL NOTE.
ALL STAFF AND STUDENTS WILL BE SCREENED DAILY PRIOR TO COMING TO SCHOOL WITH A SYMPTOM AND TEMPERATURE CHECK AT HOME. TEMPERATURE CHECKS WILL BE DONE UPON ENTERING THE SCHOOL BUILDING. ALL CDC, LOCAL HEALTH DEPARTMENT/HEALTH OFFICER AND PUBLIC HEALTH NURSE, AND NJ DEPARTMENT OF HEALTH GUIDELINES WILL BE FOLLOWED IN CONJUNCTION WITH THE WASHINGTON TOWNSHIP BOARD OF EDUCATION POLICEIES AND PROCEDURES, AND PER THE SCHOOL MEDICAL INSPECTOR, DR. RON FRANK.

If a child is injured or becomes ill at school, the parent will be notified. If the parent is not available then the person designated to be called in an emergency will be contacted. Please be sure to keep the school notified of any changes in telephone numbers, addresses, places of work, and emergency contacts. Please be sure to contact the school nurse to discuss any health problems, concerns, or attendance issues. I look forward to confidentially assisting your child and family in any way that I possibly can.

I appreciate any health updates regarding illness, infection, health conditions and immunizations, so I can keep your child's Health Record current.
I look forward to overseeing the school health program, and providing regular and emergency health services to our school population.

Please utilize our district website and click on "District Information" and "Forms" for all health history, medication, asthma, allergy/anaphylaxis, and dental and physical forms.

I look forward to hearing from you. I can be reached at (908) 876-3865 ext 4003 or push 2.